Eames Lounge Chair | Eames Chair | Eames Chair UK | Eames Style Lounge Chair
Eames Lounge Chair The Eames Lounge Chair & Ottoman, correctly titled Eames Lounge (670) and Ottoman (671), were released in 1956 after years of development by designers Charles and Ray Eames for the Herman Miller furniture company. It was the first chair the Eames designed for a high-end market. These furnishings are made of moulded plywood and leather. Examples of these furnishings are part of the permanent collection of New York's Museum of Modern Art.
Do you want to add a touch of classic beauty and modern refinement to the decor of your home? Look no further than SwivelUk, the world's leading source for the renowned Eames Lounge Chair. The Eames Lounge Chair is synonymous with comfort, style, and innovation, and SwivelUk is delighted to offer this famous item to you at a reasonable price.


Eames Lounge Chair: The Ultimate Guide to the Iconic Mid-Century Modern Design
The Eames Lounge Chair & Ottoman is more than simply furniture; it's a fashion statement. Its distinct shape and high-quality materials make it an excellent accent to a wide range of home styles, from mid-century modern to contemporary chic. The Eames Style Lounge Chair UK enhances the visual appeal of any environment it is put in, whether it is in your living room, study, or even your bedroom. Also, have a look at Serge Mouille Ceiling Light to embrace your room.
Best Eames Lounge Chair Deals: Where to Find the Best Prices
If you're considering adding an Eames Lounge Chair to your home, it's essential to find the best deals to make this luxurious piece more affordable. We'll explore the top places to purchase an Eames Lounge Chair and give you some insider tips on how to find the best prices. Your dream of owning this classic chair may be closer than you think.
Eames Lounge Chair Care and Maintenance: How to Keep Your Chair Looking Like New
Once you've acquired your Eames Lounge Chair, it's crucial to know how to take care of it to ensure it remains in pristine condition. We'll walk you through the essential maintenance and cleaning tips, making it easy to keep your chair looking as good as the day you bought it.
Eames Lounge Chair History: The Story Behind the Iconic Design
To truly appreciate the Eames Lounge Chair, it's important to delve into its fascinating history. Learn about the creative minds behind this iconic design, the inspiration that led to its creation, and the impact it has had on the world of furniture and interior design.
Eames Lounge Chair Design: Why It's Still So Popular Today
What makes the Eames Lounge Chair a timeless classic? We'll explore the design elements and principles that have kept this chair popular for decades, making it a staple in both mid-century modern and contemporary interiors.
Eames Lounge Chair Inspiration: How to Decorate with an Eames Lounge Chair
Now that you have this beautiful chair in your possession, it's time to get creative with your interior decor. Discover inspiring ideas and tips on how to decorate your space around the Eames Lounge Chair, creating a harmonious and aesthetically pleasing environment.
Eames Lounge Chair DIY Projects: How to Update or Repair Your Chair
Is your Eames Lounge Chair showing signs of wear and tear? We'll guide you through DIY projects to refresh and repair your beloved chair, ensuring it continues to be a centerpiece of your home for years to come.
Eames Lounge Chair Sustainability: How the Chair is Made and What Happens to It When It's No Longer Needed
In an age of growing environmental awareness, it's important to consider the sustainability of our furniture. Learn about how the Eames Lounge Chair is made and what options you have when it's time to part ways with this iconic piece.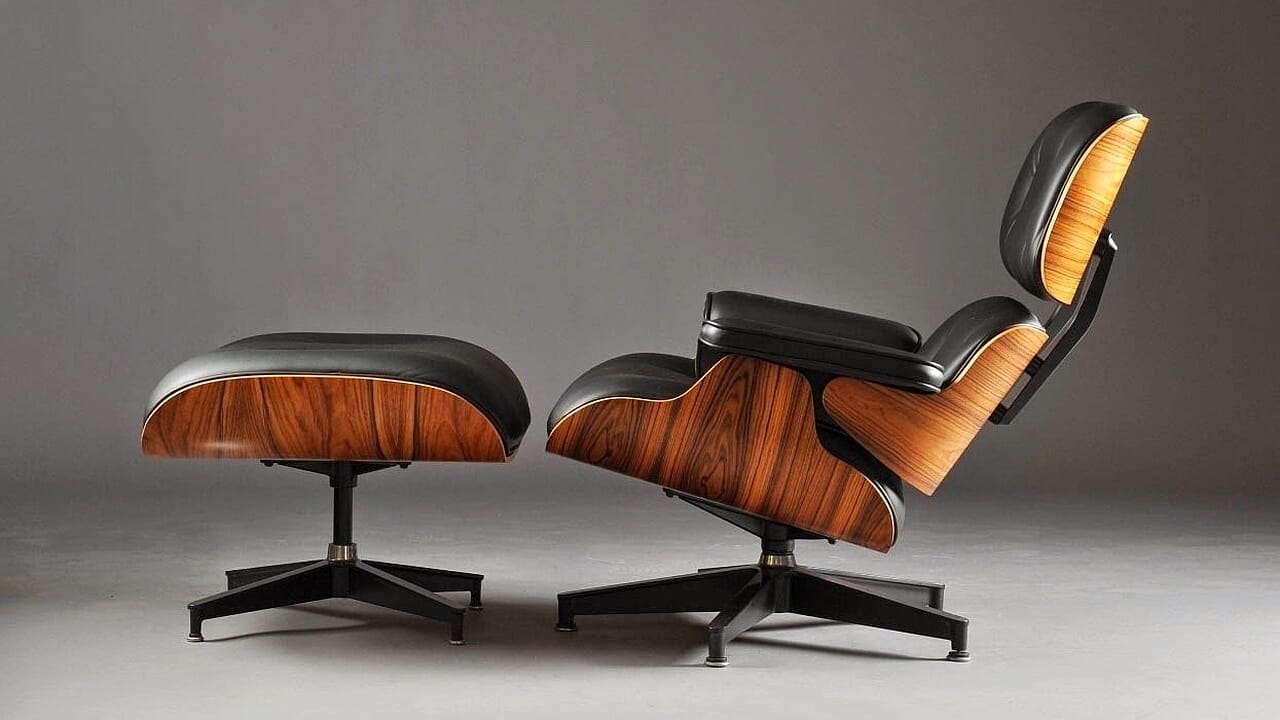 Your Eames Journey Starts Here
Welcome to SwivelUK, where the legacy of Charles and Ray Eames lives on through our curated collection of Eames Lounge Chairs. Explore, indulge, and transform your space with a piece of design history that transcends time.
Elevate Your Space. Embrace Timeless Design. Experience SwivelUK.
Swivel UK offers a wide range of chairs to suit various needs and preferences. Whether you're looking for a Wishbone Dining Chair, Wishbone Chairs, Armchairs, Barstools, Lounge Chairs, Office Chairs, Tulip Chairs, or iconic designs like Eames Chairs, Swivel Dining Chairs, Mario Bellini Sofas, Cherner Chairs, Bertoia Barstools,  Tulip Coffee Table, and Hans Wegner Chair, Seasann Sofa Swivel UK has you covered. Their collection also includes renowned designs by Hans Wegner. With a focus on quality and style, Swivel UK provides comfortable seating options that cater to different spaces and purposes, including the Eames Lounge Chair tall variant. From elegant dining rooms to cozy living areas and productive workspaces, you can find the perfect chair to complement your decor and enhance your overall comfort and enjoyment.In a world where trends come and go, the Eames Lounge Chair stands as a timeless testament to exceptional design and enduring comfort. Owning one is not just acquiring furniture; it's an investment in history and elegance.
Frequently Asked Questions
What is the Eames Lounge Chair?
The Eames Lounge Chair is a legendary piece of furniture designed by Charles and Ray Eames in the mid-20th century. It's renowned for its exceptional comfort, iconic design, and use of premium materials, including molded plywood, sumptuous leather upholstery, and sleek aluminum.

What is the Eames Lounge Chair made of?
The Eames Lounge Chair is crafted from molded plywood and leather. It's known for its iconic combination of walnut, rosewood, or other high-quality veneers, along with premium leather cushions.

Why should I buy the Eames Style Lounge Chair from SwivelUk?
SwivelUk is your trusted source for authentic Eames Lounge Chairs in the UK. We offer a wide range of options to choose from, ensuring you find the perfect fit for your home. Our commitment to quality, affordability, and customer satisfaction sets us apart as the ideal destination for owning this design masterpiece.

Are the Eames Lounge Chairs at SwivelUk authentic?
Absolutely. We take authenticity seriously. Our Eames Lounge Chairs and Ottoman UK are crafted to capture the essence of the original design, with meticulous attention to detail and quality. You can trust that you're investing in a genuine piece of design history when you choose SwivelUk.
Who designed the Eames Lounge Chair?
The Eames Lounge Chair was designed by the renowned husband-and-wife team, Charles and Ray Eames. They are celebrated for their contributions to mid-century modern design.
How do I clean and maintain my Eames Lounge Chair?
To keep your Eames Lounge Chair looking its best, regular cleaning and maintenance are crucial. We provide detailed instructions on how to care for your chair in this guide.
What are Eames lounge chairs made of?
Eames lounge chairs are typically made of molded plywood shells, high-quality leather upholstery, and aluminum bases. These materials combine to create the chair's iconic design, comfort, and durability.
What is the classic Eames Chair color?
The classic Eames Chair is often associated with black leather upholstery, which is one of the most recognizable and iconic color choices. However, Eames Chairs are available in various colors and upholstery options to suit different preferences and interior designs.