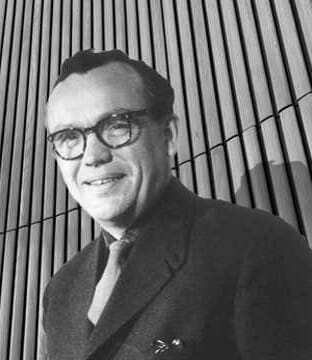 Finn Juhl
Architect and interior designer Finn Juhl was born in Denmark in 1912. Over the course of a thirty-year career Juhl made major contributions to 21st Century interior design and is widely considered to be a foremost figure of Danish creatives. Though originally he was geared towards art history and painting, it was under the influence of his ambitious father that he persued the more reliable career path of architecture.
He was admitted to the Royal Danish Academy of Fine Arts from 1930, where he studied under Kay Fisker, a leading architect of his day. After graduating, Juhl worked for ten years at Vilhelm Lauritzen's architectural firm. His work included numerous assignments within the field of interior design. Shortly after opening his own office, Juhl received several offers to design some premier addresses in Copenhagen, including Bing & Grøndahl's shop on Amagertorv and Svend Schaumann's florist's shop on Kongens Nytorv.
He went on to win several awards during the tenure of his career, including three gold medals at the XIth Triennale in Milan in 1957. In 1978, he was also made Honorary Royal Designer for Industry in London in and went on to be awarded Knight of the Order of Dannebrog, bestowed by the Danish monarchy. Juhl is considered one of Denmark's best known designers and his designs are much-imitated the world over.