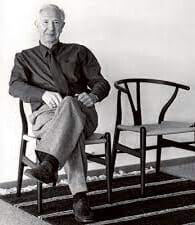 Hans J. Wegner
Hans J. Wegner was a world renowned Danish furniture designer. In his lifetime, he designed over 500 different chairs, over 100 of which were put into mass-production and many of which have become recognizable design icons. Born in Denmark in 1914 to a cobbler, the young Wegner was interested in wood-sculpturing from an early age. He completed apprenticeships as a teenager before going to the Danish School of Arts and Crafts and the Architectural Academy in Copenhagen. When architects Arne Jacobsen and Erik Møller established a studio together to design and build Åarhus City Hall in 1940, they took Wegner on as a trainee.   
Even his earliest objects Wegner exhibited a typical approach of "stripping the old chairs of their outer style and letting them appear in their pure construction." It is said that he " always wanted to make unexceptional things of an exceptionally high quality." The most famous of his creations were the Peacock, Kennedy and Wishbone Chairs.
Introduction to Hans Wegner and his impact on furniture design
He was born on April 2, 1914, in Tønder, Denmark. He studied architecture and furniture design at the Technical School for Furniture Design in Copenhagen before opening his own studio in 1943. Wegner quickly gained acclaim for his clean-cut designs and innovative use of materials. His chairs were characterized by their organic shapes and curved edges, which created a timeless and elegant aesthetic. Few individuals in the field of furniture design are as revered and admired as Hans Wegner. Danish-born Wegner was a brilliant architect and furniture maker whose works have made a lasting impression on the field of interior design. His work has come to be associated with Scandinavian design concepts because of its simplicity, usefulness, and organic forms.
One of the most significant figures in the history of modern furniture design is the Danish furniture designer Hans Wegner. His designs, which stand out for their clear lines, efficiency, and simplicity, have had a lasting influence on the field of interior design. An in-depth analysis of Hans Wegner's life and career is provided in this piece, which focuses on his famous chair and examines the wider impact of his furniture designs.
The Iconic Hans Wegner Chair
The Hans Wegner chair, his most well-known design, is at the center of Hans Wegner's legacy. It was created in 1949 and is still a steadfast symbol of mid-century modern design. It is also known as "The Chair." The chair's distinctive Y-shaped backrest and graceful, tapered legs demonstrate Wegner's skill at flawlessly fusing form and function. In addition to providing comfort, its ergonomic design improves the aesthetic appeal of any room it graces.
The Legacy of Hans Wegner Furniture
Hans Wegner has created a wide range of furniture designs in addition to "The Chair," many of which are now considered classics. The "Wishbone Chair," "Shell Chair," and "CH163 Sofa" are examples of furniture that have come to be associated with Scandinavian design and are highly sought after by design aficionados throughout.
The Design Philosophy of Hans Wegner
Wegner's design philosophy was based on the fact that furniture should be beautiful, functional, and easily accessible. He believed in creating visually pleasing pieces while maintaining practicality and emphasized the importance of balance and harmony in design.
Materials and Techniques Used by Hans Wegner
One reason for the enduring appeal of Wegner's furniture is his meticulous attention to materials and craftsmanship. He often worked with natural materials such as wood and combined them with innovative carpentry techniques, resulting in furniture that exudes quality and durability.
Hans Wegner Chair in Contemporary Interiors 
Despite the fact that the Hans Wegner chair was created decades ago, it is still very important in modern interior design. Its timeless design and versatility make it a sought-after item for modern homes and offices.
How Hans Wegner Chair Transformed Interior Design
Bringing Hans Wegner Chair into the world of interior design brought a refreshing change. His works were departures from the ornate and heavy styles that dominated previous eras. The simplicity and elegance of its design brought a new lightness and airiness to the interiors.
Hans Wegner Chair: Embodying Timeless Elegance and Functionality
The world of furniture design has seen many iconic pieces over the years, but few have left as lasting a mark as the Hans Wegner chair. Designed by the famous Danish designer Hans J. Wegner, the chair has become a symbol of sophistication and style. In this article, we delve into Hans Wegner's legacy and explore the exciting design, impeccable craftsmanship, and enduring comfort of the Hans Wegner Chair.
Recognizing Reproductions and Fakes
As the demand for Hans Wegner furniture grew, so did the spread of imitations and fakes. Learning the subtle differences between authentic designs and reproductions is essential for anyone looking to invest in their own timeless creations.
The Global Influence of Hans Wegner
Hans Wegner's designs had a great impact not only in Denmark but also around the world. His furniture became a symbol of modern design and Scandinavian aesthetics, influencing designers and architects around the world.
Honoring the Master: Exhibitions and Museums
In honor of his contribution to design, several museums and exhibitions present the work of Hans Wegner. These curated spaces offer a unique opportunity to explore the depth of his creativity and innovation.
The Enduring Appeal of Hans Wegner Furniture
Decades after their creation, Hans Wegner's designs continue to appeal to design enthusiasts and homeowners. The timeless appeal of his furniture lies in its ability to complement various design styles, from traditional to contemporary.
Incorporating Hans Wegner Furniture in Modern Spaces
The integration of Hans Wegner furniture into a modern interior adds a classic elegance to the element. Whether it's "The Chair" as a screen or the "Wishbone Chair" for casual dining, his designs blend seamlessly into today's living spaces.
Investment Value of Hans Wegner Furniture
In addition to their aesthetic value, original Hans Wegner pieces have proven to be valuable investments. The rarity and craftsmanship of his furniture increased its popularity among collectors, making it highly desired in the market.
The Craftsmanship of Hans Wegner's Furniture
The exceptional craftsmanship of Hans Wegner's furniture reflects the dedication and skill of the artisans who bring his designs to life. Each piece is a testament to the pursuit of perfection and attention to detail.

Swivel UK offers a wide range of chairs to suit various needs and preferences. Whether you're looking for, Armchairs, Barstools, Eames Lounge Chairs, Office Chairs, Tulip chairs, or iconic designs like Eames Chairs, Swivel UK has you covered Their collection also includes renowned designs by Hans Wegner. With a focus on quality and style, Swivel UK provides comfortable seating options that cater to different spaces and purposes. From elegant dining rooms to cozy living areas and productive workspaces, you can find the perfect chair to complement your decor and enhance your overall comfort and enjoyment.

FAQs
Q1: How can I care for my Hans Wegner chair?
A: To keep your Hans Wegner chair looking beautiful, it is essential to clean it regularly with a soft cloth and mild detergent. Avoid harsh chemicals or abrasive materials to prevent damage. For leather chairs, use a special leather cleaner as needed to maintain the luster and quality of the material.
Q2: What other types of chairs does Hans Wegner make?
A: Besides dining chairs, armchairs, barstools, lounge chairs, office chairs, and Eames Lounge Chairs, Hans Wegner makes wishbone chairs and classic Danish designs. The timeless and iconic Wishbone Chair is one of his most popular designs.
Q3: Where can I buy Hans Wegner furniture?
A: You can find Hans Wegner furniture at high-end. Furniture stores and online retailers. Swiveluk is proud to offer a range of Wegner chairs, perfect for any home or office. Shop now and find your own piece of furniture history!