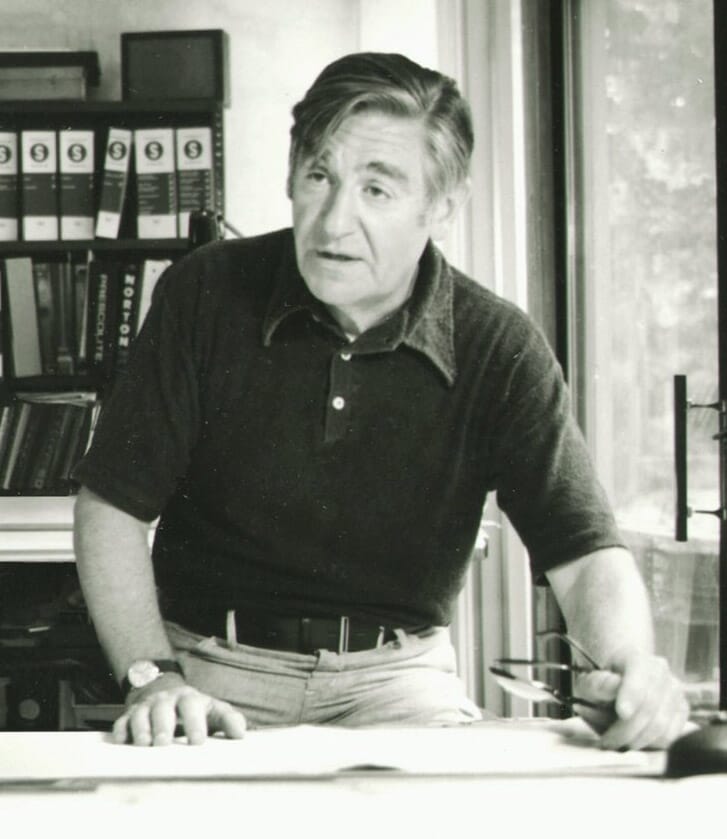 Cherner Chairs: Ultimate Guide
When it comes to furniture, there are certain timeless designs that never go out of style. One such design is the Cherner Chair, which has been popular since the 1950s. The Cherner Chair is a beautiful and comfortable piece of furniture that has been praised by designers and homeowners alike for its unique and elegant design.
The Cherner Chair was designed by Norman Cherner, an American designer and architect, in 1958. Cherner originally designed the chair for Plycraft, a furniture manufacturing company. The chair became popular in the 1960s and has since become an iconic piece of furniture.
Today, the Cherner Chair is available from a variety of retailers, including Swivel UK. If you're in the market for a new chair, the Cherner Chair is definitely worth considering. In this post, we'll take a closer look at the Cherner Chair and why it's such a popular choice for homeowners and designers alike.
Norman Cherner Inspired

As low as

£285

Regular Price

£518

Norman Cherner Inspired

As low as

£214

Regular Price

£413
The Timeless Design That's Still Going Strong
Welcome to SwivelUk, your ultimate destination for exquisite and timeless furniture pieces. In this section, we are delighted to introduce you to the iconic Cherner Chairs—a design that has stood the test of time and continues to captivate enthusiasts of modern furniture. From their intriguing history to the reasons behind their popularity, we will delve into all things Cherner Chairs. So, let's explore the world of Cherner Chairs together.
The History of Cherner Chairs: From Mid-Century Modern to Modern Classic
Cherner Chairs, designed by the talented architect and designer Norman Cherner, emerged during the mid-century modern movement in the 1950s. The distinctive silhouette of these chairs quickly gained recognition and became synonymous with the era's innovative and sleek design aesthetic. Norman Cherner's vision was to create a chair that seamlessly blended organic shapes with exceptional functionality.
The Visionary Designer:
Norman Cherner was born in 1920 and had a career in architecture and design. His keen eye for aesthetics and functionality led him to explore various creative fields. He worked with legendary architects such as Eero Saarinen and Buckminster Fuller, honing his design sensibilities.
The Iconic Design:
In 1958, Norman Cherner realized his most famous work - the Cherner Chair. The chair's signature silhouette features a molded plywood seat with a curved, flowing design and a solid wood base that gracefully supports the caregiver. It's organic form and sculptural form set it apart from the traditional furniture designs of its time.
Collaboration with Plycraft:
Norman Cherner collaborated with furniture manufacturer Plycraft to produce the Cherner Chair. The design of the chair was originally launched as part of a collection called "Pretzel Chairs", which included different variations of the iconic design.
Why Cherner Chairs Are So Popular: 5 Reasons to Love These Timeless Designs
Distinctive Silhouette:
The Cherner Chair's most recognizable feature is its curvaceous and organic shape, which adds elegance and visual interest to any space. Its sculptural form effortlessly merges with various interior styles, from mid-century modern to contemporary.
Unparalleled Craftsmanship:
Crafted with utmost precision and attention to detail, Cherner Chairs showcase exceptional craftsmanship. Made from high-quality materials, such as molded plywood and solid wood, they exude durability and longevity.
Versatility and Comfort:
Cherner Chairs are not just visually striking; they are also incredibly comfortable. With their ergonomic design and thoughtful construction, they provide exceptional support while ensuring a pleasant seating experience for hours on end.
Timeless Appeal:
Despite their origins in the mid-20th century, Cherner Chairs possess a timeless appeal that transcends passing trends. Their clean lines, warm wood tones, and captivating form make them versatile additions to both modern and classic interiors.
Iconic Status:
Cherner Chairs have achieved iconic status in the design world. They have been featured in renowned museums, graced the covers of design magazines, and can be found in stylish homes, offices, and public spaces worldwide. Owning a Cherner Chair is owning a piece of design history.
The Best Cherner Chairs for Your Home: A Buyer's Guide
To ensure the longevity and beauty of your Cherner Chair, proper care and maintenance are essential. Follow these guidelines to keep your chair looking its best:
Regular Cleaning: 
Dust your Cherner Chair regularly using a soft, dry cloth. Avoid using abrasive cleaners or harsh chemicals that could damage the finish or upholstery.
Upholstery Care:
If your Cherner Chair has upholstery, refer to the manufacturer's instructions for cleaning and care. Follow their recommendations for stain removal and fabric maintenance to preserve its pristine condition.
Wood Maintenance:
For chairs with wooden elements, periodically apply a high-quality wood polish or furniture wax to nourish the wood and maintain its luster. Avoid placing your Cherner Chair in direct sunlight or near heat sources to prevent fading or warping.
Protection:
Place felt pads on the chair's legs to protect your floors from scratches. Additionally, avoid placing heavy objects on the seat or backrest to prevent potential damage.
Professional Assistance:
If you encounter significant damage or require extensive restoration, seek the assistance of professional furniture restorers or upholstery specialists who are experienced in working with Cherner Chairs.
At SwivelUk, we are dedicated to providing you with the finest Cherner Chairs whether it is barstool or side chair we ensure that you have all the information and support you need to make an informed purchase. Our collection showcases the beauty, craftsmanship, and timelessness of Cherner Chairs, bringing a touch of iconic design to your home. Explore our selection today and experience the enduring allure of Cherner Chairs for yourself
The Cherner Chair Design
The Cherner Chair is a beautiful piece of furniture that is known for its unique and elegant design. The chair is made from molded plywood, which gives it a sleek and modern look. The design of the chair is also very ergonomic, which makes it incredibly comfortable to sit in for extended periods of time. The chair has a curved backrest that provides support for the lower back, and the seat is contoured to fit the shape of the body.
One of the most distinctive features of the Cherner Chair is its legs. The chair has four slender, tapered legs that give it a sense of lightness and elegance. The legs are made from solid wood, which adds to the durability of the chair. The overall effect is a chair that is both beautiful and practical.
Organic Silhouette:
The most striking aspect of the Cherner chair is its organic and flowing silhouette. The seat and back of the chair are made from a single piece of molded plywood that is shaped to fit comfortably around the human body. Gentle curves and contours create an inviting and supportive seating experience that makes the chair not only visually appealing but also ergonomic.
Plywood Construction:
Norman Cherner's innovative use of molded plywood in the Cherner chair was ahead of its time. The construction of the chair involves bending plywood into intricate shapes, achieving strength and durability while maintaining a light and elegant appearance. This approach reflected the era's fascination with modern materials and production techniques.
Solid Wood Base:
The Cherner chair stands on a solid wooden base, often made of beech or walnut. The base has nicely tapered legs that provide a stable base and add to the overall aesthetic look of the chair. The contrast between the natural warmth of the wood and the smooth plywood creates a harmonious balance in the design.
The Comfort of the Cherner Chair
While the Cherner Chair is certainly beautiful, it's also incredibly comfortable. The chair's unique design provides excellent support for the back and the body, which makes it ideal for extended periods of sitting. The curved backrest is designed to fit the natural curve of the spine, which helps to reduce pressure on the lower back. The contoured seat is also very comfortable and provides excellent support for the hips and thighs.
In addition to its ergonomic design, the Cherner Chair is also very practical. The chair is lightweight and easy to move, which makes it ideal for use in a variety of settings. Whether you're using the chair in a home office or a dining room, you'll find that it's easy to move around and adjust as needed.
Graceful Curves and Organic Form:
At the heart of the Cherner chair's design is its graceful and organic shape. The seat and back of the chair are molded from a single piece of plywood, carefully shaped to the shape of the human body. Continuously flowing arches create an elegant and inviting aesthetic, differentiating it from the traditional corner furniture models of the time.
Molded Plywood Construction:
Norman Cherner's innovative use of molded plywood was groundbreaking for its time. The structure of the chair consists of bending thin layers of wood veneer, which are then glued together to form the special shape of the seat and back. This technique not only ensures structural integrity but also allows for a lightweight and visually striking design.
Supportive and Comfortable Seating:
The ergonomics of the Cherner chair make it more than just a visually appealing piece. The designed seat and backrest provide excellent support for the caregiver, which promotes comfortable and relaxed sitting for long periods of time. This thoughtful approach to comfort is one of the reasons for the chair's continued popularity.
Buying a Cherner Chair
If you're interested in buying a Cherner Chair, there are a few things that you should keep in mind. First, you'll want to make sure that you're buying from a reputable retailer. Swivel UK is a great choice, as they offer a wide selection of Cherner Chairs at competitive prices.
You'll also want to consider the color and finish of the chair. While the Cherner Chair is available in a variety of colors and finishes, not all colors will work well in every setting. Be sure to choose a color and finish that will complement your existing decor.
Conclusion
The Cherner Chair is a beautiful and comfortable piece of furniture that has been popular for decades. Whether you're looking for a chair for your home office or your dining room, the Cherner Chair is a great choice. With its unique design and ergonomic features, the Cherner Chair is both beautiful and practical. If you're in the market for a new chair, be sure to consider the Cherner Chair from Swivel UK. Looking for more Products Eames Lounge Chair, Hans Wegner Chairs, Dining Chairs, Office Chair and many more.
Frequently Asked Questions
1. Where are Cherner chairs made?
The Cherner Chair Company and dealers across the world sell Cherner Chair products, which are produced in the USA.
2. Are Cherner Chairs comfortable? 
Yes, Cherner Chairs are designed with comfort in mind. Their ergonomic shape and thoughtful construction provide excellent support, making them comfortable for extended periods of sitting.
3. Can I customize the upholstery of my Cherner Chair?
Yes, Cherner Chairs offer a range of upholstery options to suit your personal style and preferences. From vibrant fabrics to luxurious leather, you can customize the upholstery to complement your existing decor.
4. What is the difference between the armchair and side chair versions of Cherner Chairs? 
The armchair version of Cherner Chairs features armrests, providing additional support and comfort. The side chair version, on the other hand, does not have armrests, offering a more streamlined and minimalist look.
5. Can Cherner Chairs be used in commercial spaces?
Absolutely! Cherner Chairs have gained popularity not only in residential settings but also in commercial spaces such as restaurants, offices, and hotels. Their timeless design and durability make them a versatile choice for various environments.
6. Are Cherner Chairs environmentally friendly?
Cherner Chairs are crafted using sustainable and environmentally conscious practices. The use of high-quality materials and the longevity of the chairs contribute to their eco-friendly nature.
7. Are Cherner stools comfortable?
Cherner stools are known for their unique design and high-quality materials, which contribute to their overall comfort.
8. What other kind of furniture is available at SwivelUk?
At SwivelUk you can explore different ranges of chairs, tables, and chairs.
9. Can Cherner chairs be used outdoors?
While Cherner chairs are primarily designed for indoor use, some models may be suitable for outdoor use if properly cared for and protected from the elements.
10. What are the other different available chairs?
Kennedy Chairs, Elbow Chair, Aluminium Office chairs, etc are different types of chairs available at swivel.